With a population of around 10,000 people, Sedona is a small town in Arizona with a big reputation for spiritual renewal and abundant outdoor activities. You'll find no shortage of things to do in Sedona Arizona.
Sedona sits at 4,350 ft above sea level and the landscape features beautiful red rock canyons with both desert and forests and amazing hiking trails. In addition the Sedona vortexes bring visitors from around the world to experience the magical energy centers.
Along with amazing hiking, biking, and birding around the red rocks, Sedona has many new age shops, spas, art galleries, and great restaurants.
Today's post features 12 fun things to do in Sedona for outdoor fun and adventure.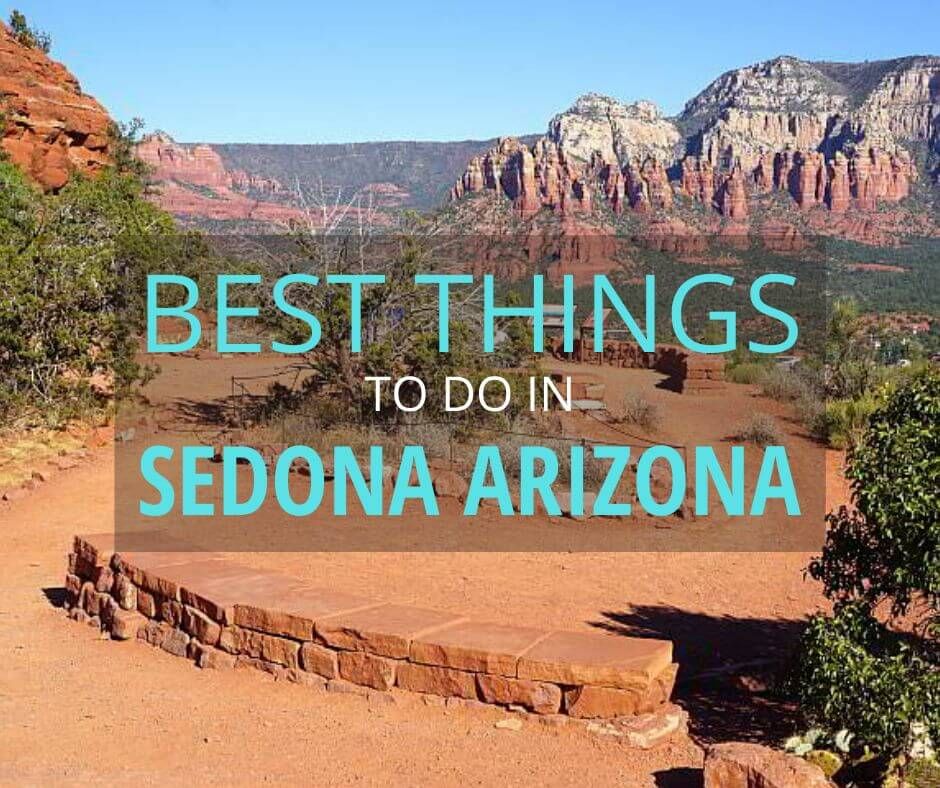 Schnebly Hill Road Vista
For the adventurous folks (with high clearance 4×4 vehicles) the Schnebly Hill Rd Vista is an exhilarating experience with incredible views along the way.
You definitely need a high clearance 4×4 vehicle. My little Toyota Yaris would never make this road trip. But my friend's 4×4 SUV did fine, although it is slow going on the extra rocky portions.
Even if you don't own a high clearance set of wheels, you can rent a jeep in Sedona to drive the Schnebly Hill Road. Or book a tour with Pink Jeep Tours and leave the driving to someone else.
The total route is about 12 miles (19 km) total but it will take you anywhere from 45 minutes to 2 hours to complete because it's a rough road and you must maneuver carefully to avoid the huge rocks.
Schnebly Hill Road is also known as Forestry Service Road 153 (FS 153) and it connects with Hwy I-17 so you can drive Schnebly Hill from I-17 (near Flagstaff) into Sedona or start out in Sedona, drive Schnebly Hill and return via interstate 17.
Flagstaff is close to Sedona so it makes for an easy day trip to the red rocks and it's usually warmer in Sedona than Flagstaff. If you are staying in Flagstaff check out over 15 more day trips from Flagstaff.
Stupa and Peace Park
Sedona is known for stunning red rock landscape and as a spiritual place. Combine the two with a visit to the Amitabha Stupa and Peace Park.
The Sedona Amitabha Stupa gets its name from Buddha Amitabha – the Buddha of Limitless Light. Stupas are the oldest of Buddhist religious monuments.
At the Amitabha Stupa of Sedona there is a large bronze sculpture of Buddha looking towards the 36 ft tall Stupa. Colorful prayer flags adorn the trees along the trails in the Peace Park.
Escape to the serene beauty and allow yourself time for spiritual renewal at the Amitabha Stupa and Peace Park in Sedona.
Sedona Vortexes
Do you know about the Sedona Vortexes? These spiritual places are thought to be swirling energy centers conducive to healing and transformation.
There are several vortexes in Sedona, but the main four vortexes are:
Bell Rock
Boynton Canyon
Cathedral Rock
People flock to Sedona to experience the Sedona Vortexes and feel the energy, and chill to the Sedona vibe. All the vortexes are wonderful Sedona hikes. One of the easiest to get to is the Airport Mesa.
Explore Sedona outdoors with a hike to any of these mysterious cosmic forces known as the Sedona vortexes.
Little Horse Trail
One of the best red rock hikes in Sedona, Little Horse Trail is a beauty. The trailhead is near the Chapel of the Holy Cross church, watch for it beyond the left side of the trail.
When you hike (or bike) to the top of Little Horse Trail, you'll have the reward of spectacular views of the Sedona red rocks.
Another popular thing to do in Sedona is to take a Pink Jeep tour up to the red rocks, one of the tours includes a trip to the top of Little Horse Trail.
Don't worry, if you are hiking Little Horse you won't see the jeep tours until you reach the summit. And they don't hang around for a long time. Find your space on the red rocks to relax and take in the views.
Montezuma Castle/Montezuma Well
Spoiler alert, Montezuma Castle and Montezuma Well have nothing to do with the Emperor Montezuma. Some people thought it would be a cool name for the cliff dwellings.
Montezuma Castle is one of the best preserved Indian ruins in North America. The cliff dwellings are around 800 years old, but no one has lived there since around the year 1450.
Montezuma Well is a sink hole that releases over 1 million gallons of water per day. There are some cliff dwellings at the well and you can walk down to the water.
Note that Montezuma Well is 10 miles away from Montezuma Castle National Monument.
Visit other Indian ruins in northern Arizona.
Yavapai Apache Fry Bread & Jewelry
As one Google reviewer put it "Go for the fry bread, stay for the jokes…" and I would add that you should shop for authentic souvenirs too! Beadwork, sand paintings, jewelry, all hand made.
Fry bread selection includes sweet to savory with your choice of honey, cinnamon & sugar, or beans with cheese and salsa.
I enjoyed the fry bread with cinnamon and sugar and bought a beaded dream catcher. The guy running this outdoor eatery and shop has a got a sense of humor. I didn't get to meet his mom but he told me that she made the dream catcher that I bought.
Enjoy the food, jewelry, and jokes!
Visit Yavapai Apache Fry Bread and Jewelry at West Middle Verde Rd (aka N Montezuma Castle Hwy) at Montezuma Castle Rd. Perfect stop on your way to (or from) Montezuma Castle!
Cottonwood
Cottonwood is a charming town with cute shops and a hiking trail by the Verde River.
Walk along Main Street in the historic Old Town Cottonwood for shops and restaurants. And you must wander through Larry's Antiques and Things, a jungle of treasures to explore.
Spend some time along the Verde River or hop in a kayak and paddle your way around.
Do you like wine? You're in the right place in Cottonwood, the center of Verde Valley wine region. Sample the red, white, rose, and maybe bring home a case of drinkable souvenirs from Arizona?
Dine casual or upscale with options such as Bing's Burger Station, Pizzeria Bocce, Tavern Grille, or Nic's Italian Steak & Crab House.
Dead Horse Ranch State Park
Odd name for a beautiful place. This Arizona state park is a lovely oasis with three lagoons for kayaking, fishing, and birdwatching. Campsites and cabins are available for rent.
Dead Horse Ranch State Park is perfect for a family day trip from Sedona. Walk around the lagoons and watch for the pair of bald eagles that come back to nest in the springtime.
Fall is a wonderful time to visit the park when the cottonwood trees are a stunning golden display. I wrote a full blog post about visiting Dead Horse Ranch Park with all the details.
Tuzigoot National Monument
The word Tuzigoot is derived from the Apache word for 'crooked water' and the site was named at the suggestion of an Apache member of the excavation project.
Southwest of Sedona and near Cottonwood, this important historic site was a pueblo of the Sinagua people. The site is one of the largest pueblos in Arizona, built from limestone and sandstone, and consisting of more than 100 rooms in total.
The Sinagua people were farmers. They grew beans, corn, cotton, and squash and built the living quarters between 1000 and 1400 CE.
Walk the short trail through the historic ruins then take the boardwalk to Tavasci Marsh, watching for birds and listening to birdsong. A wetland in the desert is a rare thing to see.
Honanki Pueblo and Palatki Pueblo
The ancient ruins at Honanki and Palatki pueblos offer a glimpse into the past lives of the Hopi ancestors, known as the Sinagua people.
The road to the ruins is a bumpy ride on a washboard road but it's worth it. And if you're into free camping or off roading trails then make sure to plan extra time here.
Riding the ATV trails is one of the popular things to do in Arizona. There are lots of jeep and ATV rental places in Phoenix and Sedona. And Phoenix is only 115 miles from Sedona so it's a great weekend vacation spot or day trip.
Once you get to Honanki Ruins there is a small parking lot and a short hike to the pueblo cliff dwellings. You'll probably see lizards here on the hotter days and watch out for snakes too.
I have all the info you need to visit Honanki Ruins here. As of this writing Palatki Pueblo is temporarily closed.
Page Springs Hatchery
Located in Cornville, about 25-minutes drive from Sedona, the Page Springs Hatchery is a cool destination during hot weather, with Lower Oak Creek and lots of trees.
Over half of Arizona's stock trout begin their life at Page Springs, that's around 750,000 trout. Arizona Game and Fish Department run the hatchery.
Birding is popular at Page Springs Hatchery. Sit down and watch for a while, you will probably see some interesting birds like herons, kingfishers, bald eagles, or ducks, to name a few.
Hours: 7 am to 3:30 pm daily (closed for Thanksgiving and Christmas)
West Fork Oak Creek Canyon Hike
West Fork at Oak Creek Canyon is an excellent hike for all ages. The trail is mostly flat but there are a few creek crossings so be prepared to get your shoes wet. There are rocks and logs to step across most crossings.
West Fork trail tracks along the west fork of the Oak Creek with beautiful red rock canyon walls and lots of trees offering shade almost the whole hike.
But you don't have to do the whole hike to enjoy the beauty of the West Fork Trail.
Sedona AZ Map of Things to Do
Here is the map of things to do outdoors in Sedona – enjoy!
Save it to Pinterest and SHARE!